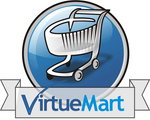 UK Virtuemart Hosting from the hosting experts! Robust and reliable, this package fully supports Virtuemart 1.1.x. Disk quotas and Bandwidth with soft limits ensures peace of mind. This package can be easily upgraded in the future and already includes PHP5 and MySQL support.
Our hosting experts will even install & setup Virtuemart to get you started!


Add ecommerce to your website for free!
VirtueMart is an Open Source E-Commerce solution to be used together with a Content Management System (CMS) called Joomla. Joomla! and VirtueMart are written in PHP and made easy for use in a PHP/MySQL environment. Virtuemart is the leading Online-Shop Solution for Joomla with over 2.5 million downloads.
Add products with an easy to use web interface. Set up delivery charges, tax charges and more through the admin control panel. Take online payement with pre-defined Payment Gateways like authorize.netŪ, PayPal, 2Checkout, eWay, Worldpay, PayMate and NoChex.
In a comparison with other Joomla e-commerce extensions, Virtuemart was rated "If you want your shop to be based on a community driven project and a mature set of community Extensions and documentation, VirtueMart is likely the best choice. "

Key Features Virtuemart ecommerce system
Hosting on latest Joomla
Pre-installed Virtuemart
Help getting you started
Email (for use with your domain) 15 POP3 mailboxes
Webmail access for all mailboxes
Choice of Managed or Control Panel
Support 24/7 Email and Telephone Support
Immediate acknowledgement
Virtuemart Hosting Experts
Domain Name Use your own domain, or register
with 2020Media
Free transfer of existing domain names
3 sub-domains at no extra charge
3 domain aliases at no extra charge
Extra Features Control Panel
Webstats
Password protected pages
Full logging available
Optional Extras Choice of MySQL version
Microsoft SQL Server

Virtuemart e-commerce installed

Additional Bandwidth
Additional Disk Space

Virus Scanning of Email
(comes as standard on Managed email)
Outbound email service 250/1250/12500
emails/day

SSL hosting with private SSL certificate
Search Engine optimisation advice