SAN SSL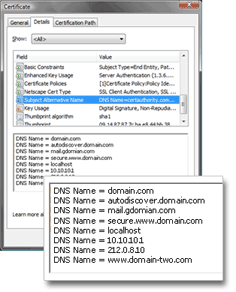 Standard SSL Certificates secure only one Fully Qualified Domain Name.
a Subject Alternative Name (SAN) SSL Certificate allows you to add extra "domain" or "server" names to be secured using the same single Certificate. This allows you to build an SSL Certificate that's simple to use and install, more secure than a Wildcard SSL, and built for your exact server security requirements.
Exchange Unified Communications (UC)
Previous versions of Exchange Server used certificates for several different purposes such as for securing EAS, OWA, RPC over HTTP, POP3, IMAP4 and SMTP. But all Exchange services/protocols were insecure by default, that is you had to secure them by installing a SSL certificate manually after setup. This has changed with Exchange Server 2007 and beyond. When you install an Exchange server a self-signed SSL certificate is created and applied during the setup process. For the purpose of Client Access servers, this SSL certificate is used to secure communication between both Internet clients (Exchange ActiveSync, Outlook Web Access, Outlook Anywhere, POP3 and IMAP4) and internal clients (Outlook 2007) to the Client Access server. The self-signed SSL certificate isn't trusted by any clients by default, but it makes Exchange Server 2007 a more secure product by default. The next step after installing the self-signed certificate is to obtain a real SSL certificate that supports Subject Alternative Name - SAN
Typically, Microsoft Exchange might use a number of alternate domains that require SSL. These could include:
www.domain.com
domain.com
owa.domain.com
mail.domain.com
autodiscover.domain.com
and perhaps an internal IP Address such as 10.0.0.1 or 'localhost'.
SAN SSL from 2020Media
2020Media offers SAN SSL certificates from a number of SSL authorities. Features include EV (green address bar) and multiple server licences.
Secure everything with a single SSL Certificate – easier install and management
Gets around technical and security limitations of Wildcard SSL
Needs only one IP Address
Contact Us to discuss any aspect of SSL certificates.