Subject Alternate Name SSL Certificates
Standard SSL Certificates secure only one Fully Qualified Domain Name. For total flexibility, a SANs SSL Certificate allows you to add up to 40 "domain" or "server" names to be secured using the same single Certificate. This allows you to build an SSL Certificate that's simple to use and install, more secure than a Wildcard SSL, and built for your exact server security requirements.

2020Media offers SAN SSL certificates from a number of SSL authorities. Features include EV (green address bar) and multiple server licences.
Secure everything with a single SSL Certificate – easier install and management
Gets around technical and security limitations of Wildcard SSL
Needs only one IP Address
When a browser comes across a Certificate with SANs, it knows that the Certificate can be used to secure not just the primary domain to which it's been issued, but also whatever it finds in the SANs section. By adding SANs your Certificate can secure other server "names" such as other domain names, subdomains, IP addresses and internal server names.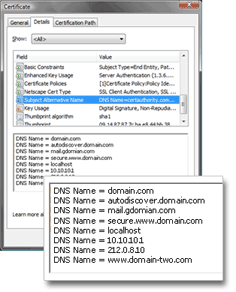 Free Unified Communications (US) Support
Support secure applications for new technologies such as Microsoft Exchange 2007 and Microsoft Office Communications Server 2007. UC support is added free of charge for the most common domain used by Microsoft: owa., autodiscover. and mail.
Up to 40 fully qualified domains
If your company has different domains, such as abc.com, xyz.com, 123.com, or different top level domains such as domain.com, domain.net, domain.co.uk, domain.eu, a SANs SSL Certificate will secure them all in the same Certificate.
Up to 40 multi-level Subdomains
Secure all your subdomains, even if they are different level subdomains such as www.domain.com, secure.domain.com, products.system.domain.com. All levels are supported.
Up to 40 Public IP Addresses
As long as you own the IP address, you can add it into the SANs SSL Certificate.
Up to 40 Localhost Names or Internal IP Addresses
Add all your localhost names, such as server1, localhost, and internal IP addresses, such as 192.168.0.1, 10.0.0.1