A simple IPv6 Detector module.
Simple IPv6 detector module for Joomla! to show if user is connecting with IPv6 or IPv4.
Additionally, it creates a link to a (RIPE) whois service with the detected ip address.
More information about IPv6.
Download
Download the latest version of the Joomla IPv6 Detector
Installation
This section describes how to install the module and get it working.
Upload `IPv6Module.zip` to your site the using the Joomla! extensions manager
Activate the module through the 'Modules' menu in Joomla!
Frequently Asked Questions
It's so simple. If you wish to edit the link for WHOIS service, open helper.php.
Screenshots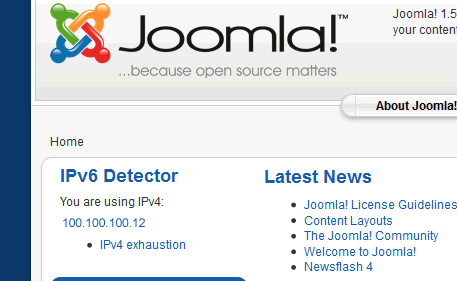 Upgrade Notice
= 1.0.1 = Updated version for Joomla 2.x and 3.x.
= 1.0 = The first release.
Changelog
1.0.1 Updated version for Joomla 2.x and 3.x.
1.0 First version.