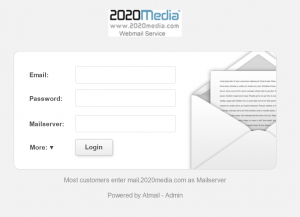 Access your 2020Media hosted email via our advanced Webmail interface here:
https://webmail1.2020media.net.uk/
Most users only need enter their email address and password. Mailserver can be left blank.
Additional Webmail service
Users can also use https://roundcube.2020media.com/ to access their email.
2020Media Email features
IMAP and IMAPS access to all accounts now possible, in addition to POP3 and POPS. See http://2020.sc/ports for more details
Mailbox size 3GB on 2020Media managed mail (standard), 20GB (Big Mailbox)
Control panel to manage your settings on 2020Media managed mail
Auto-expiry of unread messages over 90 days old for security
Auto-expiry of messages in Junk folder after 30 days*
Unique to 2020Media: Ability to pick up Junk filtered messages using POP3*
Auto-responder/Vacation message set via control panel.
Auto-setup of Apple devices such as Iphone, Ipad, Mac with config download.
Groupware Features available on PlusUsers
Shared Domain folder: all users can access this folder – perfect for sharing documents.
Calendar: A personal/shared calendar for your users.
Address book: a personal/shared address book.
WebSync Support: Allow users to Sync Addressbook & Calendar data via Outlook and vice-versa
Junk Mail filtering: a service available at no cost to try.
Advanced Users
If you're an advanced user, you might find some of the following information useful
Junk Email
In a feature we believe unique, you can download the junk email for offline use.
*Prerequisite: You must be a subscribed to 2020Media's Junk email filtering service.
Accessing the Junk folder via POP is easy. Simply prepend 'junk..' to your username (note there are two dots after 'junk').
So username: john @ smith.com becomes username: junk..john @ smith.com.
Please use the same password and incoming mailserver as for the normal account.
Retaining email
If you only access your email via 2020 Webmail or IMAP, you should set up a mail client with POP3 access to regularly download messages from our server. Otherwise any unread email on our mail server more than 90 days old will be expired and no longer be accessible.