Contacting 2020Media
We respond to all contacts as soon as possible.
Our normal office hours are Monday to Friday 9am to 6pm.
If you are a customer we promise to get back to you within 1 working day.
Need Help?
We offer service 24 hours a day, 365 days a year
Customers:
Contact support by phone: 0370 321 2020 (local rate)
Contact us by the web at: https://pfs.2020media.com
Out of Hours: 0370 321 2028  (local rate)
Email: support@2020media.com  (note: please use the email address registered on your account)
In addition to 0370 321 2028, for out of hours only, we provide a secondary number. Calls to this number from BT landlines cost 75p per minute at all times. Calls from other networks may be higher. This phone number reroutes to engineering dispatch unit so please be patient. Tel: 07017431320
The most common questions answered
WILL YOU INSTALL WORDPRESS?
WordPress is our speciality. Our WordPress hosting plans come with WordPress pre-installed. We will also migrate your site to WordPress if you want to change. We will reinstall WordPress for you free of charge at any time.
WILL YOU BACK UP MY SITE?
All 2020Media servers are backed up regularly as part of our comprehensive disaster recovery planning (DR). In additional we offer off-site backups for server-based hosting, and site level backups with roll back on designated hosting plans.
AM I LOCKED INTO ANY CONTRACTS?
Typically we operate a 1 months notice policy on our hosting. In certain cases this is not possible, usually due to the underlying terms of a third party (for example broadband fibre contracts are typically minimum 12 months). We offer a 30 day no quibble guarantee on server and hosting plans.
WILL YOU HELP WITH MIGRATION?
2020Media experts will handle your migration to our servers with the minimum of downtime. In 99% of cases there is no downtime at all. Most migrations are completely free of charge, and if we do need to make a charge (for example if the migration is over 3 hours sys-admin time), we will be clear and upfront about the charges.
DO YOU SELL DOMAINS?
Yes, 2020Media is an accredited domain name registrar. We register all country code and global top level domains for our customers. In addition we offer portfolio management services, consultancy and domain recovery services.
CAN YOU HOST MY EMAILS?
Email hosting is included in all website hosting and server plans. Our extensive email infrastructure is built on years of experience blocking spam, filtering viruses and working with all devices and email software. We also offer Microsoft 365 for Business plans.
WILL IT WORK ON MY PHONE?"
Our Email works on all smartphones including the latest IPhone and Android models.
Our different hosting plans offer varying bandwidth allowances. There is no set number of visitors that relates to bandwidth as it depends on the type of content you have on your site. However we offer generous allowances even on the cheapest hosting plans, and provide live stats and alerts on visitors numbers.
HOW FAST WILL MY SITE BE?
Our wholly-owned infrastructure is based in the UK, in the leading UK datacentres, Telehouse and others. It's connected to the internet over superfast fibre links to multiple global IP transit network providers and peers. We do not artificially limit throughput on websites, on any hosting plan, so you will always get the fastest available network speed.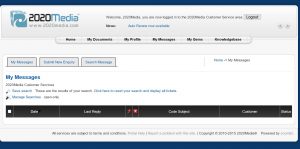 The 2020Media customer portal is where management of your account is carried out. It provides billing, administrative and technical links relevant to your account. You can raise queries, search the knowledgebase, access control panel 'gems' and view site login credentials. The Portal can be found at https://pfs.2020media.com/